Wheely 7 is the 7th installment of the Wheely series of games that is all about solving puzzles and going through each and every stage using your wit and complete attention to every detail of a stage. Nothing is more satisfying than finishing a stage in a Wheely game, which is why this game has received 7 installments.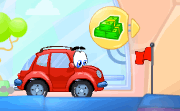 Wheely 7 puts you into the shoes (wheels?) of the main antagonist since the very beginning, a red card akin to Lightning McQueen of Cars. Wheely 7 is as much a puzzle game as all of the games in the series. The main goal is to get to the flag on the other side of each stage. To get to the flag, though, is a different thing. There will be a lot of obstacles and enemies that will be in your way, and it's your job to find what you can do to let your car pass through the stage and get to the flag. The only control you'll ever need is your mouse as your cursor, and the left mouse button to interact to the different objects in the area. A few examples would be clicking on the buttons on the stage to bring a crane up, or pointing the cursor over to a handle and holding the left mouse button to grab it, then spinning the cursor around to spin the handle. Clicking your character will make you move forward, and clicking again will make your character stop in its place.
In this installment of Wheely, you are hired (accidentally) as a detective who will need to catch a bunch of criminals on the loose. You will not only have to use your wit on some stages, but there will also be a few more challenges along the way, including a few puzzle solving maps and other stuff. This might be the most exciting Wheely yet, so hold on to your seat belts and get ready to ride, Wheely 7 is riding into town!