Match 3 games are simple, fun games that keep you playing because it's just that, simple yet very fun. Tiles is a game that I so easy to learn that you can just load up the game, skip all the tutorials, and still know how to play the game and have lots of fun with it.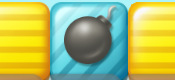 Tiles is a Match 3 colors game that has you destroying all the tiles in the playing field to move on to the next challenge. The game is played using just the mouse and nothing else. When you start a game, you'll be shown a screen filled with tiles of differing colors. What you need to do is point your cursor to any tiles that have an adjacent tile of the same color in its 4 cardinal directions and then click it to destroy those tiles. Any tiles destroyed will leave the field. It will drop any tile above it unless it has a tile directly under it (you can tell if a tile is under it by looking at the tile and check if it has one beneath it, and it will look a bit higher than the others, too). You can do combos and rack up higher scores by breaking tiles and setting up more tiles with the same colors where the other tiles will drop. Getting a break of 4 or more tiles in move will reward you with a bomb, which is a pretty important part of the game. You will eventually run out of moves (if no same colored tiles are adjacent to each other), once you do, you will need to use a bomb to remove one tile from the field. If you run out of moves and bombs, it's game over. There will be a few tiles added in as you progress through the levels, making the game a bit harder. One of the tiles is a clear tile that cannot be clicked and removed from the field. The only way to remove them is to combo them to each other, so you'd have to think ahead of time to plan their removal.
Tiles may be named in a simple manner, and played in a more simple manner, but you can bet that it's deep enough to keep even the hardcore puzzle gamers on their toes.