American Football fans rejoice! We've got a game just for you, and we know you're gonna love it. What's not to love about a sports game filled with action? Return Man is the first game in a long series of well loved football games, and is a gateway to the one of the greatest football simulators out in the web.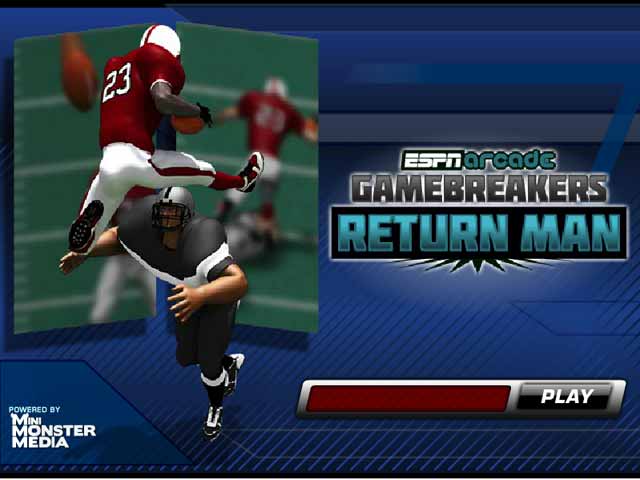 Return Man is a sports action game that lets you play as the catcher of the punt kick, and your goal is to get to the end of the field to get a touchdown. You'll be given 3 chances to do so. Each time you get tackled and stopped, you'll lose a chance. Each possession is basically a life, so keep in mind that you shouldn't waste a single one. The controls are kind of weird, but for movement, you'll be using the I key to move forward, and the J and L keys to move left and right respectively. The A, S, and D keys are used for special moves (that you'll get later in the game). The space bar is a shortcut for continue (since it'd be a hassle to keep going back to your mouse to click on continue), and the M key mutes the game's sound. The game will start once your character catches the punt, and you'll be able to take control of the catcher. You'll have to keep running until the end, and it's not going to be easy with all the other players set up to tackle you, but it's not a really unfair match. You'll have 3 blockers set up to keep you safe, so make sure to use them wisely. Once you get to the end, you'll be given a congratulations screen and move on to the next level. Rinse and repeat.
Although it might not sound too exciting of a game, Return Man pumps up your adrenaline once you start playing. We've played this game for an hour without getting tired of it, so that's a good indication of how good this game is, especially for sports fans! If you love football, then dive in and play Return Man.