Basketball is one of the most known sports in the world, and it's one of the simplest ball games to learn. There are no bases to fill, no downs to understand, and no offsides to get confused by. It's simple, grab the ball, run past everyone, put the ball in the hoop. Easy.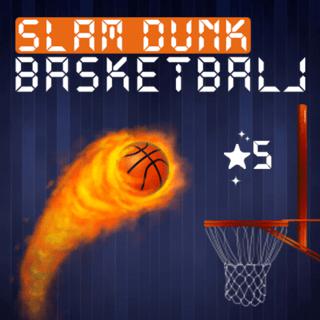 Slam Dunk Basketball is an arcade game that lets you play a condensed version of basketball, like literally, all you ever need to do is throw the ball and make sure it goes through the basket, then you do it again – ad infinitum, or until you run out of time. The game is as simple as the sport it copied from, your goal is to get the highest score available before getting a game over, which happens when the timer drops to zero. The game is played entirely by using your mouse. The left mouse button is the only button you'll ever need. Every time you click on screen, the ball will jump up a certain height and move a bit of distance – it both depends on where the mouse cursor currently is. You just have to be very precise with your clicks to make sure you sink the hole. There will also be stars that you can collect as sort of an achievement, but doesn't really do too much. The game lacks a lot of features that could've made it more awesome, like buying different aesthetic stuff using the stars you pickup. In any case, your only realy goal is to beat the highest score.
Slam Dunk Basketball is as fun as any arcade basketball games, but it's lacking a lot of features that could've made it better. It's still a great game though if you can look past everything that's not here, as it's still fun to play and is a great game to fight over bragging rights.