A zombie apocalypse has plagued our world, and it's up to you, one of the few hundred survivors of the world to rebuild human society from the ground up. Will you take this responsibility and walk with everyone else that survived this horror or will you succumb to the fear and let the zombies take you alive?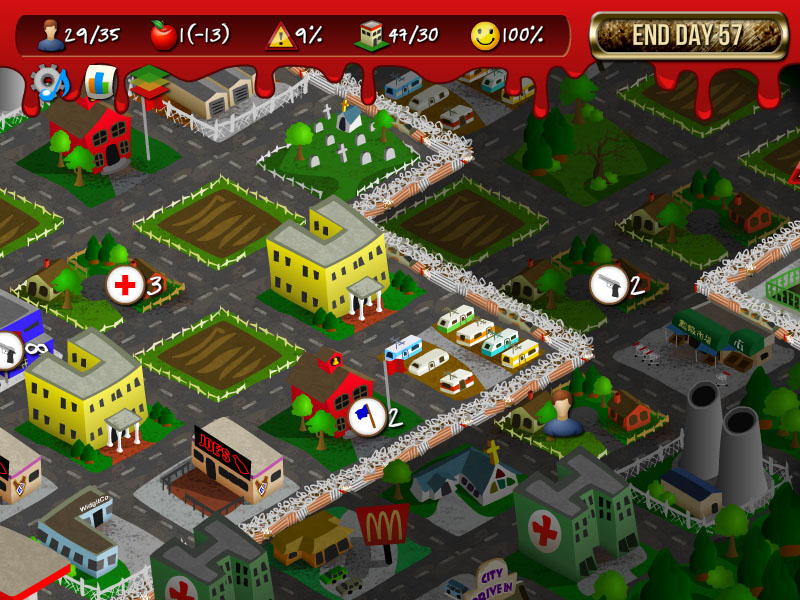 Rebuild 2 is a strategy / survival game that lets you play as a person that survived through the apocalypse, and is now looking to build a way to help other survivors so you can live in peace again. You do this by leading the other survivors and giving them tasks (these tasks can also be given to your character). There's a lot of stuff to do before the world can become functional again, and you'll be starting with the little tasks to make sure everyone is alive and happy. You'll be growing food in your farms, you'll be scavenging food in some buildings and some farms out of your control, you'll be reclaiming buildings and build defences around them, you will be recruiting other survivors, there will be some buildings where you can train various skills like scavenging (to get more loot), leadership (to get a higher chance of recruiting), and some other skills to make all of your survivors useful. There are three different ways to end the game, but I won't spoil it for you. Every night you will be attacked by zombies, and it will show you at the top screen the percentage of you surviving the night, so make sure to never send out all of your people on tasks without thinking of your evening defences. The strategies you'll have to use are complex, and everything you do will take time so you really have to think about what you want to do, and when you want to do it. Scavenging will take a day before the people you gave the task comes back, reclaiming may take a few days, but carpenters can help each other to shorten that time. There will also be random events that may or may not help you, like some other random survivors helping you out, or a random guy bringing some gambling stuff for you to get or lose food.
Rebuild 2 is a very deep game with a very expansive world and gameplay in its very tiny package. If you're looking for a great strategy survival game that lets you play hours on end while still having some serious fun, then Rebuild 2 is a great choice.