Getting a job is not easy in our current economy, and even more so if you'd like to get your dream job. In this day and age, you can't be too picky with the job you can get. What you can do, though, is to love the job that you get. And that's what you do in Papa's Bakeria. You learn to love making pies and other pastry products in this great little baking simulator.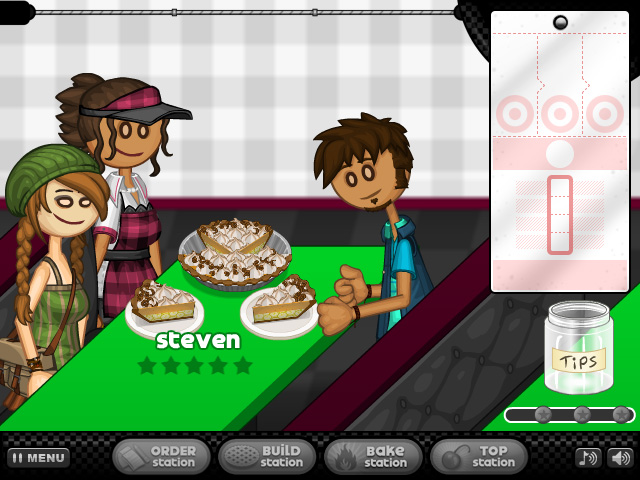 Papa's Bakeria is a baking simulator that lets you play as a guy looking out for a job, gets rejected at the job he wants, but gets a glimmer of hope when he gets invited to work for Papa's Bakeria, a small bakery in a mall. You will work your way to the top and bring the bakery's name with you. This game a little like some of the great cooking sims out there. The goal is to create pies and other food that a customer will request for. The customers will have a specific liking that you'll have to follow to the dot. You will have different tools and ingredients that you can use to make sure that your creation comes up to par with what the customer wants. The better the food, the more money they give you. Get enough money in a day, close shop, and do it again tomorrow. That's basically it. You do this until more and more customers come in, the requests become harder, but your name becomes more popular, netting you more customers and more income. The controls are just the mouse. Click all of the ingredients you would like to use, drag it to te appropriate part of the screen, and bake away.
Papa's Bakeria is a fun and cute little baking game that gives you a wide variety of difficulty as you go along. If you've been looking for a game to pass the time and have fun while you do, then Papa's Bakeria is the perfect game for you.