Merry Christmas! If you're anything like me, you have a lot of extra time during these Holidays… Idle clickers are the perfect games for those that have a lot of time on their hands. All of them are simple, easy to learn, and very easy to control. I mean, you just click, learn a few stuff for upgrades, usually, and bam, you do that over and over until you reach a certain goal. Dungeon Click is one such game that reels you in by its easy gameplay and funny graphics.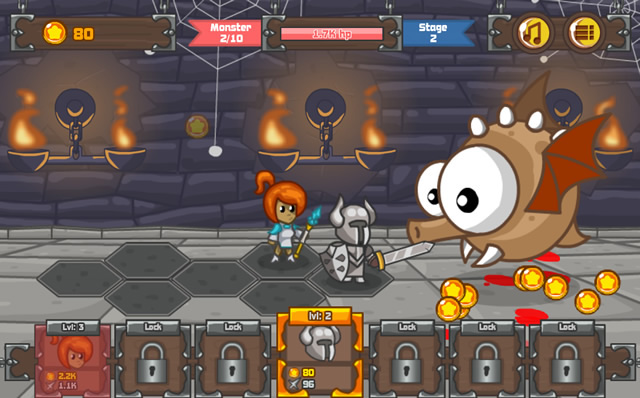 Dungeon Clicker is, obviously, an idle clicker that lets you play as a warrior out to defeat every monster that threatens the kingdom. You play the game entirely by using your mouse. Evert level starts with you and a monster in front of you. You can click anywhere on the screen (as long as there is no menu or button in the way) to attack the monster in front of you. The damage of your attack will depend on your investment in your own attack damage. You can put in money to increase your damage on each click. Each enemy you kill will give you money, which you can then use to upgrade your damage to kill more monsters to get more money to kill more monsters and so on. You can also invest in getting allies to help you out (which is a very good investment in the long run). These allies will attack monsters without you having to click, and you can also invest money in their attacks per second, so that's good, too. The game also has a roulette feature where you can get (or lose) a lot of gold!
If you have ever played a fantasy idle clicker, then you will probably be familiar with Dungeon Clicker, and will know that it's one great game. It's one of the only idle clickers I've known that actually has levels and progress, so that alone makes it different already!