You are the most loyal, though a bit clumsy, servant of the devil. You're given a simple task of getting a magical jar filled with the souls of the dead and deliver it to the devil. Of course, your clumsiness is in the way, so you accidentally break the jar and release the souls. It's now your job to get the souls back and make sure all of them are accounted for.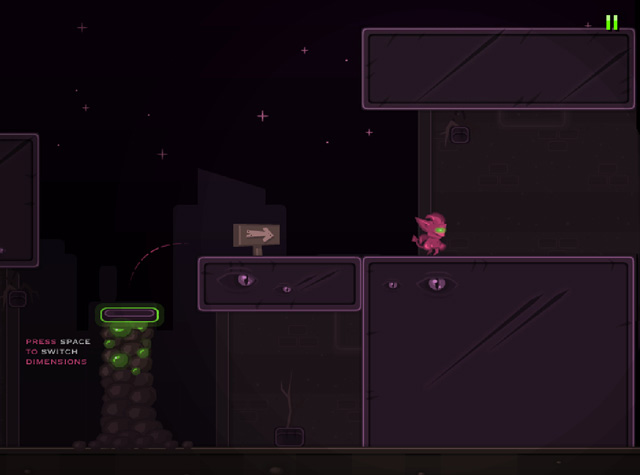 Demon Shift is a puzzle platformer game that puts you into the shoes of the clumsiest servant of the devil now collecting the souls he released accidentally. This game has a lot to offer in both of the genres it's in, that's puzzles and platforming, and sometimes, you'll have to use both your puzzle solving skills and great platforming skills at the same time to be able to move on the next level and collect the next soul. When you start a game, you are placed at the start of a level with different obstacles, your goal is to get to the end of the level to collect the soul there. That sounds simple enough, right? But there's a twist to this game. Your little servant character has the power to shift through 2 dimensions, and there will be times when you will be required to use this skill to change the playing field. For example, there will be platforms that you can't reach in the normal world, but after you shift to the demon dimension, a pillar will suddenly pop up between you and that platform, letting you reach it.
Some entities will be inanimate objects in the regular dimension, but in the demon dimension, it's alive and it's out to get you. These are little things that increase the challenge of this game.
You play using the arrow keys to move around and the space bar to shift dimensions. That's everything you need to know in terms of controls. You'll learn when to use your magical powers in the middle of the game (the game will give you cues when to use it during the first few times so don't sweat it).
If you're out trying to find a good platformer with a sprinkle of puzzle solving, you just found the game that'll blow your mind for the weekend. Demon Shift is cute and fun, but challenging in all the right ways.