You know how bikes are never out of style? Well, Cyclomaniacs know what's up. This game is all about bikes and stunts – as well as all about fun. Join the race around the world using your bikes and different characters like a clown, a penguin, a pirate, a zombie, or even the King, Elvis Presley!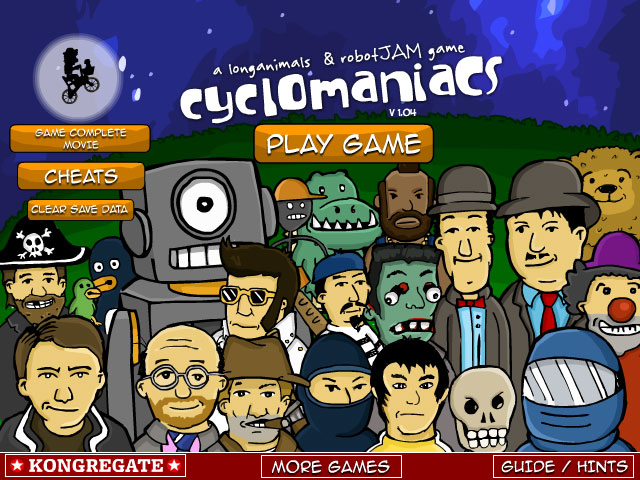 Cyclo Maniacs is a bike racing game that lets you roll around in your bike in more than 10 locations around the world and use more than 15 characters – each of them you'll unlock as you play through the game. You'll be playing using only your keyboard, with the W (or up key) being your accelerate button and S (down key) as your brake. The space bar will be used to jump. A and D is used to lift your front or hind wheels to do stunts. In the air, those buttons can be used to tilt your bike forward or backwards to do stunts to add more to your stunt meter gauge. Once that gauge is filled, you'll be given a full boost meter that'll automatically kick in. The goal of the game is to get to the end of the track and leaving everyone else behind (basically, you have to be 1st to get to the goal). You'll be given a fixed amount for your win but you can also get more money by finishing the challenges presented to you before you start a race. The money you get can be used to buy upgrades for your bike and a lot of other stuff, so keep on racing to get even better bikes and characters!
Cyclo Maniacs is an awesome bike racing game and can give you a few hours of gaming time that you can't leave – seriously, the game's collectible nature and fun gameplay can become a bit addictive. If you're looking for a casual game that you can play for a good span of time, then this is one of the best games to choose.