There are lots of great sports games out there specially for sports like soccer and football, but not too many will let you play the great game of basketball, so here's one for all those basketball fans that would like to play a great basketball simulator using just your browser. Enter Basketball Legends, created by the same people who made the popular sports Legends (Soccer Legends) series.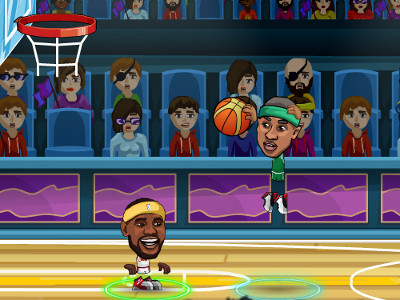 Basketball Legends is a basketball simulator that lets you play as any player from any of the NBA teams, although the roster isn't updated up to 2016, all the players would still be very familiar to those that are fans of the game. The game plays a lot like all of the other Legends games where you can choose to play either a 1 on 1 game or 2 on 2, and with the 2 on 2 games you can choose whether to control just one or both of your players. The game controls pretty easily, and 2 players can share a keyboard to play the game with just one PC. The first player will use the A and D keys to move left and right, and use the W key to jump. If you have the ball, you can press S to do a pump. Pressing the V button will pass the ball and pressing the B button will shoot. Pressing a movement key twice will make you dash to that direction. For the second player, you just replace the A and D keys with the left and right arrow key, and the V and B with the K an L keys, and finally, the W and S keys with the up and arrow keys.
Basketball Legends is one of the best basketball simulators that you can play online right now, and the game being multiplayer enabled makes it even a better choice for you to play if you have a friend or sibling to play with.